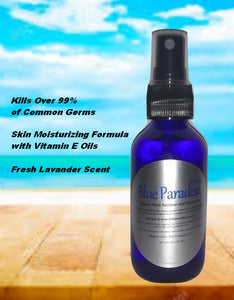 Use Blue Paradise Hand Sanitizer Spray to eliminate germs and nourish skin. Just spray a few times and you are done. The alcohol based sanitizing formula is safe and very effective. Blue Paradise Hand Sanitizer Spray also contains natural essential oils and ingredients including Lavender, Avocado, and Vitamin E.
TOTAL GERM FIGHTING PROTECTION: Effective 70% alcohol based  sanitizing formula kills 99.99% of pathogenic germs within seconds. Instantly protect your skin from virus causing germs.
SMELLS WONDERFUL: The essential Lavender oil releases a sweet natural and sultry scent known for its fresh and elegant qualities.
SAFE FOR ALL SKIN TYPES: A natural formula with no harmful chemicals safe to use on yourself and entire family. Blue Paradise Hand Sanitizer Spray leaves nothing behind but clean germ free skin.
LAST LONGER: You get 300 sprays from one compact spray bottle.
Why it works so good?
The combination of essential oils and natural skin cleansers effectively protect skin.
In The Package: (1) Blue Paradise Organic Hand Sanitizer (2 oz).