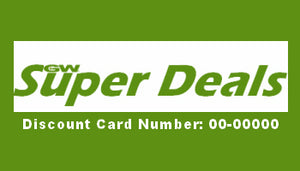 Enjoy More Super Deals!
With a Premium Super Deals Membership you can get these sweet benefits.
SAVE Extra 10% Off any item on GWDirectStore.com (Unlimited Uses)
Bonus Surprise Discount: SAVE up to 95% Off hot items including electronics, Amazon Gift Cards, Housewares, Appliances, TVs, and much more!
Exclusive $1.00 Item Events For Premium Super Deals Members
Buy 1 Get 1 Free Year Round Events
Special Promo Events. Submit and vote for Super Deal items!
Early Access To Super Deal Savings Events! Sign Up Today!
6 Month Membership: Only $9.95
Sign Up Today!