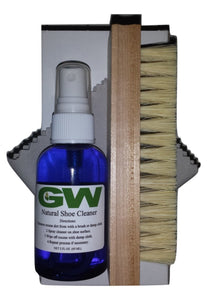 Keep your shoes looking as good as new!
Effectively cleans dirt and stains from shoes.

Cleans up to 100 pairs of shoes.

Safe to use on all colors and shoe materials including leather, golf shoes, nylon, or vinyl.
GW Premium Deluxe Shoe Cleaner Kit includes (1) GW Shoe Cleaner Spray Bottle, 
(1) Handcrafted Wooden Shoe Brush and (1) Suede Microfiber Cloth (6" x 6").
Shoe Care Tips: Be sure to clean suede and leather shoes immediately after wearing them in dirt or mud. Never clean your shoes with harsh cleaning agents such as bleach. Washing machines can damage or shrink your shoes, and the grit and grime from your shoes may damage the machine as well. Use GW Shoe Cleaner to safely clean your shoes!
 
In The Package: (1) GW Cleaner Spray Bottle (2oz), (1) Handcrafted Wooden Shoe Brush, and (1) Premium Microfiber Suede Shoe Cleaning Cloth.