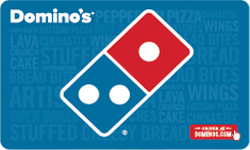 Don't miss out on upcoming Super Deals!
Sign Up For Super Deals Email Newsletter (Click Here)
Dominos Pizza E-Gift Card ($10 Value)  | Super Deal Price: $1.00
Dominos gift cards can be redeemed for pizza, sandwiches, deserts and more. Try Domino's Artisan Pizza, Stuffed Cheesy Bread, Oven Baked Sandwiches, Parmesan Bread Bites, or Chocolate Lava Crunch Cakes. A Dominos Pizza e-gift card lets pick up at the restaurant or order pizza online to be delivered to your home. Dominos Pizza gift cards can be sent by e-mail. Available while quantities last. Limit 1 per Customer.