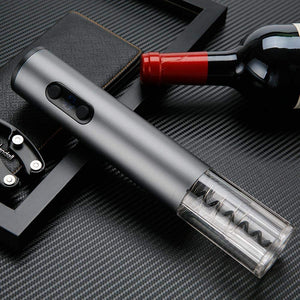 Don't miss out on upcoming Super Deals!
Sign Up For Super Deals Email Newsletter (Click Here)
Super Deal Price: $1.00
OPEN EFFORTLESSLY - Fantastic for wine lovers! Remove the cork in 6 seconds and start enjoying your favorite wines right away without struggling with stuck corks, weak bottle corkscrews and messy kitchen countertops. It can open up to 80 wine bottles per charge. Even the most difficult ones! Perfect for red, white, rose wine, champagne, and etc. ALL
IN ONE SET - Comes with foil cutter for easily removing seals with one turn of a hand.
PORTABLE & CONVENIENT - Cordless and lightweight design, HYTX wine opener has no extra cord requirements. Without hassle of pulling, twisting or broken cork pieces when using. Available while quantities last. Limit 1 per Customer.